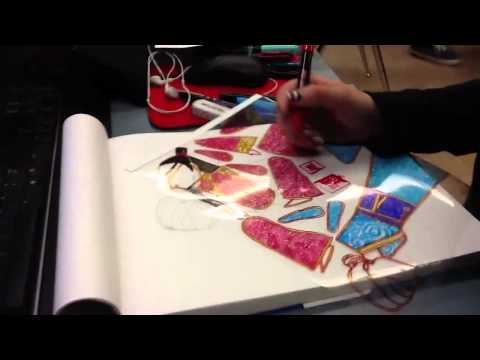 source: http://student019.onlinefolio.org
My summative cultural project is just a continuation of my Cultural Experiences project which involves stop-motion shadow puppets.  It might seem to make more sense to just film a shadow-puppet show, but where's the fun in that? Plus, I'm not friends with live video.
The video will present a Chinese legend on how the New Year's Eve tradition started. If you want to a re-cap of the project, here are the weekly posts that document my progress: Week 7: Inception Week 8: Legends Week 9: Making the Shadow Puppets
Here are a couple of videos I looked at to get an idea on style and how I would set up the stage and background (it'll show up 2D, so I don't need to worry about making a full stage):
The second video is a little choppy, but it has the general idea.
So far, I'm constructing the puppets by first putting a tentative design on paper. Once I'm happy with it it's transferred to an acetate sheet with permanent markers—acrylic doesn't work as well and takes a long time to dry.  The reason I used acetate sheets is because I want the colours to be vibrant. The "stage" will actually be a light table with a large piece of paper on it to get that authentic feel, so having paper-on-paper might diminish the puppet's colours.
5 Main Goals:
Demonstrate some of my culture and roots.
Successfully make a stop-motion video.
Document project progress.
Show that technology is essential as this generation's form of expression.
Have fun!…Just kidding (but it IS fun to be making this video).
Goals for this week:
Construct a few puppets.
Practice with what puppets I manage to finish.
Hardware, software, etc:
Light Table
Windows Movie Maker or something better.
Tags: animation, Chinese, cultural experience, cultural project, shadow puppet, stop-motion, Windows Live Movie Maker